I can't see how this is going to work. The US is having enough trouble at the moment without having to invest billions in healthcare. Where will the money come from for this? They can't tax people any more
From http://www.guardian.co.uk/world/2009/jun/11/obama-administration-universal-healthcare-reform
Barack Obama today set out a broad plan to replace America's patchwork healthcare coverage with a universal system, the goal that has eluded US presidents for more than a century.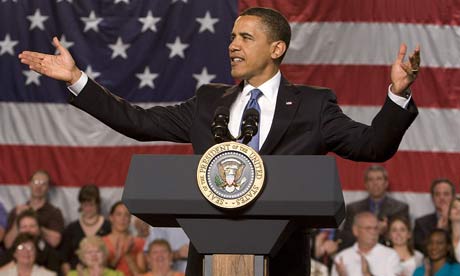 Obama, whose speech was preceded by emotional testimony from a cancer patient, said: "After decades of inaction, we have finally decided to fix what is broken about healthcare in America. We have decided that it's time to give every American quality healthcare at an affordable cost."
The political firefight that is about to engulf the US over the summer is over the 45 million people who have no health insurance that Obama wants to bring into the system.
One of the main doctors' groups warned today that Obama's plan would lead to an explosion in health insurance costs. The are testimonies from thousands of uninsured people relating horror stories of experiences in trying to obtain medical help.
There are also gripping stories from people with insurance but who found the companies failing to pay out for treatment. Others complain that insurance companies refuse to give them coverage because they already have a medical condition.
The president hopes to have legislation implementing health reform on his desk by 1 October and said today he would not tolerate "endless delay" by Congress.
Obama specifically chose to deliver his speech in Green Bay, Wisconsin because it has a healthcare system in place that is more extensive and cheaper than elsewhere in the US.
He proposed the establishment of a health insurance exchange, which would set up a government-backed insurance scheme in competition with private health insurance companies.
His scheme "would allow you to one-stop shop for a healthcare plan, compare benefits and prices, and choose the plan that's best for you. None of these plans would be able to deny coverage on the basis of a pre-existing condition, and all should include an affordable, basic benefit package," Obama said.
"And if you can't afford one of the plans, we should provide assistance to make sure you can."